編按:最近的尼泊爾山難事件(不是聖母峰好嗎)在各種媒體上吵得沸沸揚揚、爭論不休,我們認為,與其沒意義的一直爭論一直吵,到不如先看看當地搜救報告還原現況。
請大家對任何事情請先作全盤了解再開金口,一昧就自己片面的了解而爭論並不能讓世界或登山環境更好。
---
奇蹟似的生還:47天後找到了失蹤台灣健行者
Miracle survival: Missing Taiwanese trekker found after 47 days
尼泊爾Asian Trekking Search救難隊的記錄重點翻譯摘要如下:
3/26 兩位當事人的家屬拜訪Asian Trekking,因為當事人預計3/10 與家人聯繫卻失聯,家屬要求組成搜救隊協尋。
3/27-4/10 四名搜救隊員集中在 Tipling, Somdang and Pangsang 區域試圖協尋失蹤者,但因大雪極惡劣的天氣而停止搜尋。4/20 搜救隊再次進行第2次的搜救,他們到 Dhading besi,並雇用一名熟悉該區域的當地人一起進行搜救任務。
4/26 搜救隊至Pangsung地區搜索,發現禿鷹在接近Nachet Kharka 的山溝盤旋。當搜救隊穿過森林下切到山溝時,發現在大約3600公尺高的瀑布下方的山洞有件紅色衣服,這個地點並不容易到達,他們需要攀爬在乾樹幹上才有辦法下切。大約11:45 他們看見失蹤的兩人躺在山洞裡。聽到有人講話的聲音,梁先生緩慢的移動出來,悲傷的指著劉小姐告訴搜救隊劉小姐已過世。
兩位從3/11就被困在這個地方,因為當時他們試圖下切尋找接近河流下游的地方安頓,在下切時在雪上下滑以至於困在周圍都是陡崖的此處而無法移動。前4~5天他們吃著自己帶的食物,之後靠水跟鹽維繫生命直到搜救隊發現他們,梁先生告訴救難隊劉小姐於三天前過世。
當日梁先生與劉小姐分別以直升機載送到加德滿都,梁先生直接在下午4點半抵達醫院,隨即獲得醫療團隊的照顧,其生命跡象穩定。劉小姐的遺體則安置在加德滿都機場。
我們對於梁先生即將與家人團聚感到欣慰、但對於劉小姐的家屬亦致上我們的悲痛,願逝者安息。
(翻譯與整理/ Snow Tsao、健行筆記)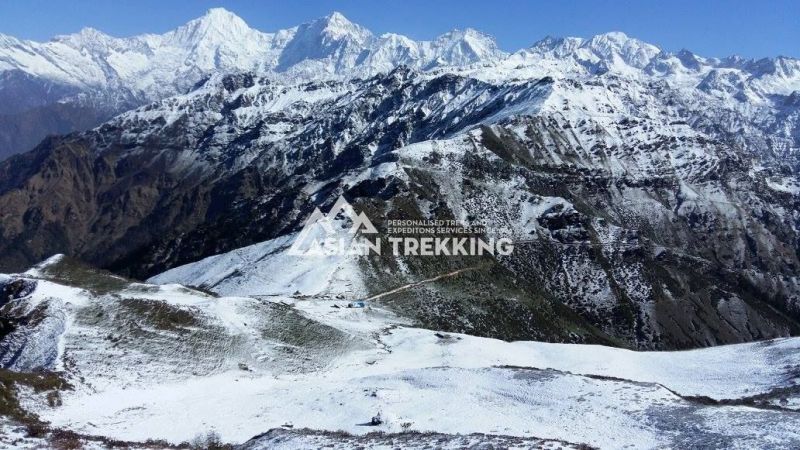 Asian Trekking Search原文記錄如下:
As there has been much interest and many conflicting reports about the recent Rescue of the missing Taiwanese Trekkers, we are uploading the following information and pictures to give a complete account of the Search and Rescue efforts leading up to their discovery.
On 26th march, the families of two Taiwanese trekkers visited Asian Trekking. The trekkers, who had been travelling with no guides or porters, had been reported missing for over two weeks since they failed to contact their families as scheduled on the 10th of March. Their families requested Asian Trekking to organise and conduct the Search and Rescue of the missing trekkers.
Between 27th March- 10th April, a 4 member Asian Trekking Search and Rescue team was dispatched and treid to retrace the steps of the missing trekkers. They focused their search around Tipling, Somdang and Pangsang area but had to stop the search due to heavy snow cover and incoming bad weather.
On 20th April – Asian Trekking Search launched a second attempt. The Rescue Team drove to Dhading besi, where they recruited a local man named Dawa Tamang to aide in the search due to his familiarity with the area in question.
On 26th April, while searching in the Pangsung area the Asian Trekking search and rescue team noticed vultures flying over a deep ravine near Nachet Kharka and rushed there to investigate. While descending down towards the ravine through the forest, they spotted red cloth in a cave under a waterfall located an altitude of around 3600m.. The location was not easily accessible so they had to climb down with the help of dry tree trunk. At around 11:45 they spotted the missing couple laying inside the cave. Hearing the men talking Liang Sheng Yueh slowly moved and greeted them. With great sorrow he pointed to Ms. Liu Chen Chun and told the team she was no longer alive.
As per Liang the two of them were trapped in that place from 11th March when they tried to descend in the hopes of finding a settlement near the river down valley. While descending they slipped down on the snow and were trapped as they were unable to climb back up and out, nor climb down to due the steep cliffs on all sides. For 4-5 days they ate the food they carried with them and they managed to survive only on water and salt until they were discovered by the search team. Mr. Liang informed us that Ms Liu passed away just 3 days before the rescue.
Asian Trekking Search and Rescue Team Member Mr. Madav Basnet contacted Asian Trekking Head Office in Kathmandu at 11:47. It was immediately established that a helicopter rescue by long line (rope-sling) would be the only possible way to extract Mr Liang.
We were fortunate that Simrik Helicopter, who is specialized in long line rescue, could go to the spot immediately with expert long line pilot and team.
Two helicopters were sent as we planned to bring Mr. Liang Sheng Yueh to a hospital in Kathmandu as soon as possible and another helicopter to bring the remains of Ms. Liu Chen Chun separately. The helicopter with Mr. Liang Sheng Yueh landed at Grande Hospital at around 4:30 PM and immediately the medical team took care of him. The second helicopter with Ms. Liu Chen Chun's remains landed at Kathmandu airport around 5:15 PM and the body is currently kept at Teaching Hospital, Maharajgunj.
At 7:00 PM, the medical director, Dr. Chakra Raj Pandey MD, of Grande Hospital informed us that all the reports of Mr. Liang Sheng Yueh's medical condition is stable and that he is out of any critical danger. Mr. Liang remains admitted at the Grande Hospital in Kathmandu.
Though we are happy that Mr. Liang will soon be back with his family, it is with sadness that we express our sympathies to the family of Ms. Liu. May her soul rest in peace.
For any further information, please Contact,
Mr. Thukten Sherpa
Executive Director of Search and Rescue
thukten@asian-trekking.com
+977 9851024375